AFFTECH 2015 and NANOMED 2015
9th National Affinity Techniques Symposium and 4th Nanomedicine World Congress
---
Dear Friends –Colloquies,
It is our great pleasure to invite you to participate in the "9th National Affinity Techniques Symposium" (AFFTECH 2015) and "4th Nanomedicine World Congress (NANOMED 2015)" that will be organize following each other between 6-12 September 2015, to be held in Koycegiz, Mugla, Turkey. The meetings will bring together experts and scientists from academia, industry, and also those involved in funding regulatory and commercial enterprises in this multidisciplinary field, from all disciplines including fundamental sciences, engineering and health sciences and related technologies. The sessions will include keynote and invited lectures on affinity technologies/nanomedicine in an interdisciplinary manner covering different fields of applications. Thematically-related research and development addressing significant problems, current developments, planned research directions and challenges will be presented by leading researchers. There will be also oral, short oral and poster presentations selected from the abstracts to be submitted. Best presentations will also be awarded. The short abstract will be collected for evaluation/ selection. One of the afternoons will be devoted to a special session, the so-called "Innovations by Young Scientist" for their presentations/demonstrations. A special call will be released in our website which will give all information to the young competitors how to apply and of course the award that will be delivered to the winners. The extended abstracts of the selected applications will be brought in an "e-book" which will be in our website. We are also asked some international journals to include those extended abstracts in a special issue.
The conference location is one of the most beautiful parts of Turkey – Koycegiz; a breath taking lake view and surroundings. It is easily reached from the Dalaman international airport (about 30 kms by bus). There are many direct flights to Dalaman from several destinations in Turkey and Europe. Any international/ domestic flights coming to Istanbul Airports have also very good connections to Dalaman. The Dalaman region is a very popular with tourists, we highly recommend that you book your flights as early as possible.
The friendly and special atmosphere (- village style -) will be created so that all the participants - from undergraduate students to eminent scientists - will hopefully enjoy the brain storming activities in a very relaxing atmosphere in the midst of nature –. Note that we will be working heavily in the mornings but will have long afternoons and the evenings to visit many beautiful surroundings and spare time - both at the sea and country sides with historical destinations.
Please visit/follow the conference website at www.biyomedtek.com for conference details including abstract submission, registration deadlines, hotel accommodation and social programmes.
Please do feel free to forward on our electronic version of this invitation and the announcement attached to any of your colleagues or collaborators, who you think may wish to attend.
We hope that you will take this opportunity to join us at these exciting meetings and visit Koycegiz and its fantastic surroundings with suprising/entertaining social events that will be organized before/ during/after the meeting.
We look forward to seeing you in Koycegiz in September 2015.

Kind Regards,
Erhan Piskin and Adil Denizli
Co-chairs of AFFTECH 2015

Erhan Piskin and Gürer Budak
Co-chairs of NANOMED 2015
AFFTECH 2015
9th National Affinity Techniques Symposium
with International Contributions
6-9 September 2015, Köyceğiz, Muğla, Turkey
NANOMED 2015
4th Nanomedicine World Congress
10-12 September 2015, Köyceğiz, Muğla, Turkey
Contact information
Mail address: Biyomedtek/Nanobiyomedtek
Dumluca sok., No: 15, Beysukent,
06800 Çankaya, Ankara, Turkey
Tel: +90 532 7079468; Fax: +90 312 2363657
E-mail: Enable JavaScript to view protected content.
Website: www.biyomedtek.com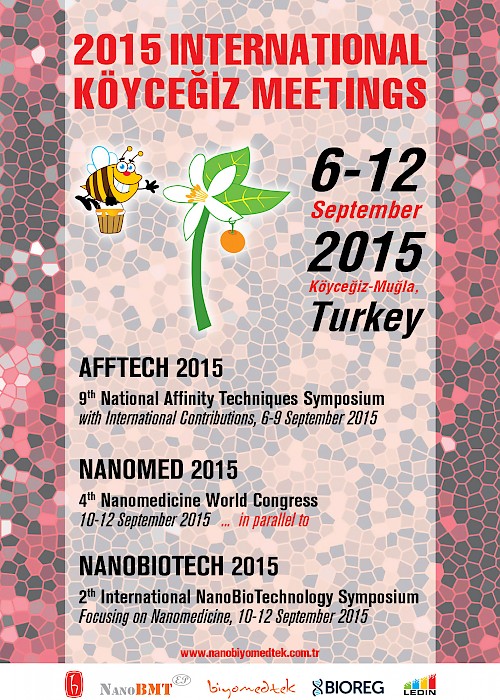 ---
---